Religion and Spirituality:

Coming soon:

Out of Ashes: Deinstitutionalizing the Church by John Jackman. Today's loss of trust in institutions and the culture wars of the last quarter-century have resulted in a flight from both traditional and evangelical churches. Jackman reviews the repeated historical process of the ways in which every vital new spiritual movement becomes a calcified and tradition-bound institution, and explores ways that congregations can break out of the traps to find renewed service to the Kingdom of God.
A Brief History of Hell: Everything You Know is Wrong by John Jackman. Centuries of medieval fiction have been passed down and codified into a whole mythology of Hell that actually isn't in the Bible at all; and that fearmongering mythology drives the beliefs and practices of many Christians more directly than do the words of Jesus. Detailing the Old Testament concepts of the afterlife, the New Testament concepts, Greek and Roman concepts that were later incorporated into the medieval horror show, Jackman explores in understandable language the different concepts of salvation and the afterlife.
Laughing in Church by John Jackman. The Book of Proverbs says: "A joyful heart is good medicine, but a crushed spirit dries up the bones." Laughter and celebration are innate healthy impulses, signs of a joyful spirit. So why has so much of Christian worship only focused on the somber and the serious? Jackman shares his experience with resurrecting the ancient practice of "Bright Sunday" the week after Easter, weaves some personal stories of joy and laughter, interspersed with the best church jokes he has collected over the last thirty years.
---
Filmmaking and Production:
Lighting for Digital Video & Television by John Jackman (2010, Focal Press). The newly-released and greatly expanded third edition is entirely in color, with international references for electrical codes and terminology! For several years the previous two editions have ranked as the top-selling books on the topic at Amazon.com; it is used as a textbook in many college and university film programs, and has been translated into Chinese.
Enhance the visual quality of your motion pictures and digital videos with a solid understanding of lighting fundamentals. This complete course in digital video lighting begins with how the human eye and the camera process light and color, progresses through the basics of equipment and setups, and finishes with practical lessons on how to solve common problems. Filled with clear illustrations and real-world examples that demonstrate proper equipment use, safety issues, and staging techniques, Lighting for Digital Video presents readers with all they need to create their own visual masterpieces.

Features:
film style techniques for digital video productions

creating "movie" looks on a low budget

lighting for HD

how to maximize existing light

how to be a grip + safety issues

interview setups

color correction techniques in mixed lighting situations

Shows how to shoot in available light

Color correction in mixed lighting situations

Film-style lighting techniques that create realistic looks

Specialized setups for blue screen, night shots, and product photography

Lighting sets with fixed practical light sources
LIST PRICE: $44.95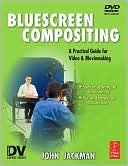 Bluescreen Compositing by John Jackman (2006, Focal Press), an in-depth tutorial on all the facets of creating special effects through color-based compositing, so common in films today. The book has been translated into Spanish.
Master the art and technique of blue and greenscreen compositing with this comprehensive how-to course in creating effective and realistic composited scenes in video formats. You get clear, understandable explanations of the different types of keying techniques and how they work, including real-world examples and tutorials. Topics include setting up a greenscreen studio,how to light the screen effectively, how to light the talent or foreground material, and matching lighting to the composited background plate. Complete tutorials of each of the major software keyers walk you through the process for creating a clean and accurate composite.
Features:
4 color illustrations detail the art and technique of compositing

Complete guide to studio set-up, keying and troubleshooting

DVD packed with real-world examples and tutorial lessons
LIST PRICE: $44.95