PRESENTATIONS FOR BUSINESS
FEATURED PRESENTATION: People Are Not Widgets!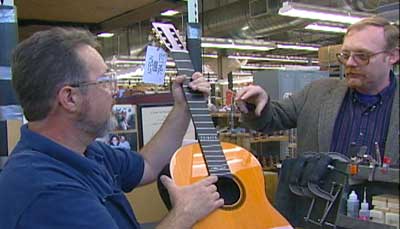 Using exclusive behind-the-scenes interviews from Martin Guitar, Jackman explores how flex time, individual self-management, and other techniques that respect both the dignity and skill of the worker and the realities of family schedules create "the happiest factory floor I've ever seen" - and at the same time produces a musical instrument of unparalleled precision and legendary quality.
OTHER PRESENTATIONS:
Honorable Prosperity: the Jewish Shabbat service includes a prayer for "honorable prosperity," a concept that seems to have completely vanished from the corporate, publically-traded world of the 21st century. How can we restore true ethics to business in a world of collateralized deriviatives?
Pursuit of Excellence: the work of Edwards Demming on Total Quality Management transformed the Japanese auto industry and is behind many of the improvements in manufacturing in recent decades. But his ideas apply to management, structure, and service as well - and can revolutionize the workplace when quality becomes the focus rather than cost-cutting.end product,
Building Teams for Excellence: Filmmaking has been called the ultimate team sport, a collaborative effort beyond even baseball. Recognizing peculiar talents, matching them with the unique needs of a particular project, and motivating the team to acheive the best possible end result has been Jackman's focus in many venues.
Please fill out the form below to inquire about booking John Jackman for
your event: